Full details of the August 2019 Main Meeting coming soon.
☆ ☆ ☆ ☆ ☆
July 2019 Main Meeting
Daniel Esguerra, Sales Manager for Multimedia Technology Australia, one of the local distributors of Synology's products and services, was our guest presenter at the July Main Meeting.
☆ ☆ ☆ ☆ ☆
The June 2019 Main Meeting
This month Whistleout dropped in.

» check it out now..
☆ ☆ ☆ ☆ ☆
The May 2019 Main Meeting
In May, Optus came to introduced their next generation of broadband technology to our members.
» see the whole presentation...
☆ ☆ ☆ ☆ ☆
The April 2019 Main Meeting

In April, Huawei come along, having just launched the flagship P30 and the Matebook X Pro and the 13 laptops. We were one of the first groups to see the new Mate X which had just been launched that day.
» read the full report here...
☆ ☆ ☆ ☆ ☆
The March 2019 Main Meeting
At the March Main Meeting we had a visit from Shopback, your cash back discount service plus our good friends from the Microsoft store as well. » follow both stories here
Vale Alan Marcionetti


It is with great sadness that we report the death of Alan Marcionetti.
We have recently heard from Mrs Helen Marcionetti that her husband, a long-standing member of SPCTUG, has died recently following a fall which necessitated hospital admission.The Secretary has written to his widow expressing members' regret and condolences.
He will be sadly missed.
☆ ☆ ☆ ☆ ☆
The February 2019 Main Meeting
This was our AGM after which the Alex took the stand to show us the new folding phones, One of the latest concepts in mobile phones. » view the full report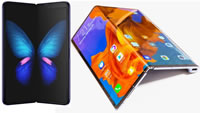 ☆ ☆ ☆ ☆ ☆